The theme for this week will be gardening and we will talk about how plants grow. It is important for our kiddos to understand that the grass, trees, flowers, and vegetables grow from seeds. We will discuss the entire process and all of the elements it takes to grow plants and we will even grow some plants of our own!
John 15:5 "
"I am the vine; you are the branches. If you remain in me and I in you, you will bear much fruit; apart from me you can do nothing.
CIRCLE TIME
http://www.primarygames.com/storybooks/plant/start.htm
Read the story on the above link. It describes the process of planting seeds and then some flowers growing. This is a great way to begin the discussion. Then, ask the children what things are necessary for the flowers to grow. Can the seeds grow without soil? water? sunlight? It is very helpful to buy a few packets of seeds and show them to the children. Talk about the different plants that will grow from the seeds. Allow the kids to examine the different seeds you provided.
Circle Time Project
Materials Needed:
Yellow construction paper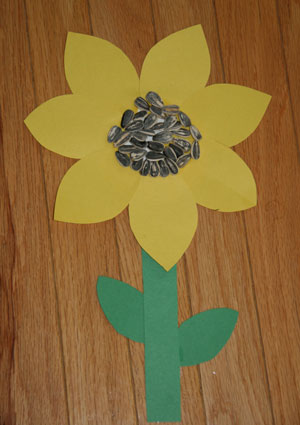 Green construction paper
White paper
Glue
Sunflower Seeds
Cut out sunflower petals from the yellow paper. Also cut out stems from the green. The idea is to make 1 flower per 4 kids. They are going to work together to make them. Sunflowers have LOTS of petals, so make a bunch for each flower. (If you have some older kids, have them help out with the cutting!)
Sunflower Petal Template
Give each group of kids their petals, a stem, a small cup of seeds, a white paper, and some glue. Direct them to make a sunflower. The seeds will be glued in the center of the flower. This is where sunflower seeds really come from!
GARDENING ACTIVITY
**You will want to start this as early in the week as you can, so you can watch what happens throughout the week.
Grow some herb plants! This is a fast way to explore how plants we grow are foods we eat. Most fruits and vegetables take quite a while to show results, but herb gardens provide edible plants pretty quickly.
Basil is a great herb to grow. It sprouts quickly and is easy to care for. This herb prefers heat and damp soil. So watering it and growing it in the summer will work out beautifully!
Provide each child with a small paper cup. Place a bowl of potting soil and a bowl of seeds on the table. You can use plastic spoons to scoop the soil and seeds into the cups. Instruct the kids to scoop a few spoons of the soil into their cups. Scoop up a spoonful of seeds and place on top of the soil. Poke the seeds down into the soil with your fingers. Lightly water. Make sure to write the child's name on the cup. Place the cups in the sunniest window sill you have.
Check the cups each day for progress. You may begin to see some sprouts by the end of the week!
SCIENCE
Sunblock Experiment
Plants need light to live. Sunlight is kind of like food for plants and if they don't get food they won't grow, just like people won't grow if we don't have food. Place a jar lid (or something else that has some weight to it) on a part of a green lawn. Ask the kids what they think will happen to the grass that is under the lid? Write down their answers. This is another experiment that takes a few days to see results. By the end of the week you should be able to check the grass under the lid and see a change. What happened to the grass? Why did this change happen? Do you think the grass will go back to normal after we remove the lid? Try that next! Remove the lid and water the spot and check back next week to see what happens!
GROSS MOTOR
Flower Growing
Pretend to be a flower! Start all scrunched up in a ball close to the ground. Shine a flashlight on the kids to act as the sunlight. Use a clean spray bottle to lightly spray them with a little water. They should slowly begin to sprout and grow upward. By the time they are full grown, they should raise their arms above their heads and spread their fingers out on their hands. They are beautiful flowers!
FINE MOTOR
Watering Can Tracing Activity
Follow this link:
http://homeschoolcreations.com/gardenpreschoolpack.html
to their gardening pack. Scroll down to the printable packs and click on Part 1. The pages 6, 7, and 8 are watering can tracing sheets. Print them and have the kids trace the water from the can to the plant. Great for practicing their fine motor writing skills!
There are lots of other fun worksheets on the site that you can use also!
MATH
Flower Puzzle
http://www.freeprintable.com/free-printable-puzzles/heart-flower-jigsaw-puzzle
Print the puzzle by following the above link. It is best to print it on a more sturdy paper. Cut out all the pieces and have the kids put the puzzle back together.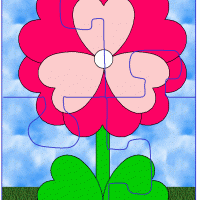 Seed Counting
Use cupcake liners. Draw 1 dot in the bottom of one, draw 2 dots in the next, and so on until you have as many as you want to have the kids count. Place sunflower seeds in a bowl and ask the kids to place the number of seeds in the liner as is indicated by the number of dots drawn inside the liner.
ART/CRAFT
Art - Bean & Seed Art
Provide a selection of seeds and beans. Also provide bowls of Elmer's school glue in little bowls and Q-tips. Give each child a piece of paper and ask them to make a picture of whatever they want using the beans and
seeds.
Craft - Foot Flowers
This one requires some serious assistance, but they will have fun getting their feet all paint-y! Allow the kids to choose what color they want their flowers to be. Paint the bottoms of their feet with the paint and guide them to step in the center of the paper with their feet. Once they have a couple of good prints, clean them up. You can have them add the stems and grass and so forth or you can do it.
These end up so cute and parents love them!
BOOKS
On Amazon:
http://www.amazon.com/Jacks-Garden-Henry-Cole/dp/068815283X/ref=sr_1_1?s=books&ie=UTF8&qid=1373830567&sr=1-1&keywords=jack%27s+garden
A very cute book with adorable rhymes that chronicles a garden from seeds to sprouts!
On Amazon:
http://www.amazon.com/Planting-Rainbow-Lois-Ehlert/dp/0152626107/ref=sr_1_1?s=books&ie=UTF8&qid=1373830703&sr=1-1&keywords=Planting+a+rainbow
Also a great story about plants growing and all the beautiful colors that plants can be.
MUSIC
"Plant a Little Seed"
Plant a little seed
In the dark, dark ground
Out comes the yellow sun
Big and round
Down comes the cool rain
Soft and slow
Up comes the little seed
Grow, grow, grow
MOVIE
Mickey and the Beanstalk
This is a classic and very cute. You can find it on Netflix and it can also be ordered through Amazon!
COOKING
Veggies & Dip!
This is a very easy dip recipe that the kids can help you make! Cut up some carrot sticks, celery sticks, bell peppers, mushrooms, and whatever else you like (they are all things that are plants we grow!) for dipping in your dip.
Instructions
In a small mixing bowl, stir the sour cream and mayo together until smooth and well blended.
Add the herbs and spices, stirring till fully incorporated.
Add a dash of salt and pepper to taste.
Cover and chill in the refrigerator till ready to serve with your favorite vegetables.