The world of inventions and inventors is vast! The lessons to be learned from inventors is that you can do it, as long as you never give up! This is a great topic for little minds. Keep it simple and teach the basic ideas of creativity, effort and persistence and even preschoolers can take away some very important life lessons.
CIRCLE TIME
An
invention
is something that did not exist, then a person made it up in their head and then worked hard to make it work for real. Many of the everyday items we use all the time were invented many years ago. It takes a lot of creativity and hard work to make inventions. Some of the things we use that were invented many years ago are the telephone, car, camera, computer, and even toilet paper!
Print the mini book from teachervision.com. The book is all about the invention of the light bulb and is very interesting!
http://www.teachervision.fen.com/tv/printables/TCR/0743932587_54-61.pdf
BIBLE
Galatians 6:9 "And let us not grow weary of doing good, for in due season we will reap, if we do not give up."
A great lesson! Never give up trying your best to help others. Since we are talking a lot about being persistent this week, be persistent in doing good for your neighbors. Have the kids draw get well cards for people in the cancer ward at your local hospital. Collect some toys that they could give to Good Will. Help an elderly woman in the neighborhood clean up her yard. Think of something you and your kids could do to to help someone! And don't give up...
SCIENCE
Lego Inventions
LEGO bricks were invented in 1934 by Ole Kirk Christiansen. He was a master carpenter and had a business where he made and sold ladders, ironing boards and wooden toys. While he was busy making other toys, he had an idea how he could make a toy where kids could build things using bricks that could snap together. After trying a few different ideas, he hade his first Legos! He had an idea, tried and tried to make it work, and then created an amazing new toy.
Get out your Legos and have the kiddos try to invent something by making it out of Legos. This is a simple activity that allows for creativity, persistence, and success!
MATH
Same and Different
Print the worksheet
HERE
. The idea is to look at the inventions from long ago and the picture of their modern version and decide if they look the same or different. They will ALL look somewhat different, but a few old inventions have barely changed since their inceptions!
Duplo Math Mats
I figure since we already have the Legos (or Duplos) out, we should probably use them again! Print the math mats and allow the kids to match the patterns.
http://allourdays.com/wp-content/uploads/2012/10/Duplo-Counting-and-Tower-Matching-Busy-Bag.pdf
MOTOR SKILLS
Fine - Playdough Inventions
Playdough is a great fine motor activity. It is also awesome for promoting creativity! You can make anything with it, so how about we create something. See if they can think of something useful to make. Anything will be great, though, so let them go crazy!
Gross - Box Robots
To get the kids up and very interactive, have them all come together to create a robot out of large moving-type boxes! Give them some packing tape (or you can be the designated taper) and be as creative as they can. Give them whatever materials you think they could use.
LETTER & READING
The Letter O - for Octopus!
http://first-school.ws/t/alpha_tracers_dn1/o3.htm
Print the worksheet. Discuss the letter O for Octopus and have the kids trace the letter.
http://www.starfall.com/n/level-a/learn-to-read/play.htm?f
Review the
ot
and
og
lessons. Also read the story "Mox's Shop" together and review the short O sounds in the story.
http://www.readingbear.org/Presentation.aspx?PresentationID=5
Review the short O lesson.
BOOKS
The books about inventions are recommended for kids a bit older than pre-school, but I know that kids will be more interested than you think!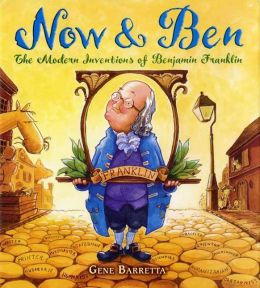 http://www.amazon.com/Now-Ben-Inventions-Benjamin-Franklin/dp/0312535694
What would you do if you lived in a community without a library, hospital, post office, or fire department? If you were Benjamin Franklin, you'd set up these organizations yourself. Franklin also designed the lightning rod, suggested the idea of daylight saving time, invented bifocals and the odometer—all inspired by his common sense and intelligence.
http://www.amazon.com/The-Kids-Invention-Book-Ventures/dp/0822598442
Erlbach uses the success of 15-year-old Chester Greenwood, who invented earmuffs in 1873, as the takeoff point for introducing more than a dozen contemporary children who have created their own inventions.
ART/CRAFT
Art - Create Anything!
Set out all kinds of materials and have the kids make whatever they like. You can try to make it an invention theme, if the kids understand the concept.
Give them: pompoms, popsicle sticks, toilet and paper towel rolls, ribbons, small boxes, feathers, pipe cleaners, pieces of felt, buttons, beads, plastic water bottles, etc, etc, etc. As with everything, please use caution about what you give them!
Craft - O for Octopus!
Materials Needed:
Paper plates
Blue construction paper
Streamers
Scissors
Colors
Glue
Googley eyes
Cut the center out of each paper plate to form the letter O. Allow the kids to color their O. Give them 8 pieces of the streamers that you pre-cut or that they cut themselves. They will glue the streamers along the bottom of the back side (the side they didn't color) for the legs. Glue the whole thing to the piece of paper and then attach the eyes. Voila! Easy Octopus craft.
MUSIC
http://www.youtube.com/watch?v=VhbCqZbuwiY
I actually found a kid's song about inventions! Take a listen...
COOKING
Octopus Hot Dogs!
Ingredients:
Hot dogs, cut into 1 inch pieces
Spaghetti noodles, uncooked
Condiments - as needed
These are fun! Give the kids a few pieces of hot dog and a bunch of spaghetti noodles. Have them carefully stick the spaghetti noodles through the hot dog pieces. Once done, boil them all together for about 8-10 minutes. When they are done, the noodles will be like octopus legs and the hot dogs will be their bodies! Allow the kids to dip them in whatever once they have cooled down.